Exhibition Views and Installations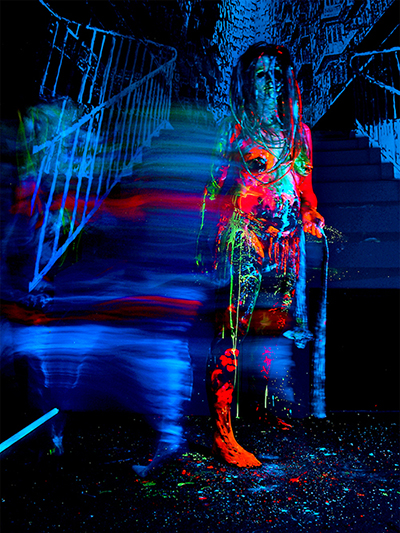 INSTALLATION - "Black Hole Society" at stay hungry exhibition, 2011
WORKS - Wächterinnen/ gards, 2009-2011
These works are produced as lightboxes, lighttubes and photoworks in different sizes.
PERFORMANCE - Orpheus and Eurydice, transmediale 2011
all Fotos of Perfomance "Black Hole Society" by Urizen Freaza
The Performance "Black Hole Society" works with elements of storytelling, physical theater and dance within an blacklight installation. It puts the greek myth of "Orpheus and Euridike" in a different context.
It was shown at dasweekend, transmediale.11, 2011 in Berlin
Exhibition: Lightboxes and -tubes, photography and a performance video (see below). A walk-in installation with haptic material, sound and paintings ttinvites you o step down into other worlds.
Event: An invisible Life Performance with bright colors; Comedia del Arte, painting, and a cabinet of wonders can be simultaneously experienced as a video projection. "A black hole is an object, on which surface gravity is so strong that nothing can leave this object – not even light. Therefore, one can not observe black holes directly, but only through its impact on their environment – for example through the intense X-ray radiation emitted by the extremely heated matter, which spirals straight into a black hole"(Astroglossar). GODsDOGs brace themselves against the pull and tug forgotten matters from the black hole, like gold coins from a wishing well. Separated from the audience by a screen, which acts for both sides as a shield, they beam their play with the "old art disciplines" through digital transformation of photographic and video technique to this screen. The projection becomes an X-ray screen or body scanner, which allows the audience ton see the innermost. GODsDOGs studied dance and movement theater, before they turned to visual arts.