Exhibition Views and Installations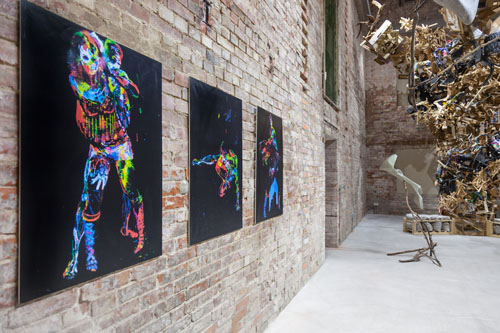 WORKS
PERFORMANCE
Exhibition - 'Riss in der Zeit'"
Ten years ago Britta and Ron Helbig breathed life into the dilapidated Weisse Villa with their former group, 'Artists Anonymous', with one of the BIORAMA-Projekts early exhibitions, 'Summer Show 2005'. Now the duo returns as the art collective, GODsDOGs, for the first exhibition in Joachimsthal's "Weisse Villa" since its extensive refurbishment.

Amongst hanging objects and walk-in artworks stands the 6 metre-high installation, "Vortex": an upward spiralling sculpture piece combining smashed furniture, books, and lost belongings which come together to imply that time has stopped. Other streams of the great "Vortex" are made up of cubist cardboard forms, organic coloured fabrics, and miniature architectural fragments.

"We can live without architecture, worship our God without her, but without her we could not remember" - John Ruskin, 1849.

The pictorial and graphic elements of the installation open up new levels of meaning: personal stories are torn from context, reminiscences of past decisions are brought forth, precipices are illuminated, and we see the beauty of the terrible. It is as if time, colour, and shape entwine and intersperse to form gateways to parallel worlds.

Riss in der Zeit

Vor zehn Jahren haben Britta und Ron Helbig mit ihren damaligen Künstlergruppe, "Artists Anonymous" und anderen Künstlern der Galerie Christian Ehrentraut der verfallenen Weisse Villa mit einer viel beachteten Ausstellung Leben eingehaucht (BIORAMA-Projekts 'Summer Show 2005'). Jetzt kehrt das Duo als Künstlerkollektiv GODsDOGs, für die erste Ausstellung nach der umfassenden Renovierung der "Weisse Villa" nach Joachimsthal zurück.

In den eindrucksvollen Räumen der "weißen Villa" verbinden sich architektonische Fragmente und Malerei mit organischen Formen, magisch anmutenden Naturmaterialien und object trouvée zu raumgreifenden, teils hängenden, teils begehbaren Installationen, in denen mit filigranen Zeichnungen überzogene Skulpturen und leuchtende Fotografien zu entdecken sind.

"Wir freuen uns sehr, das Werk von GODsDOGs in der "Weissen Villa" zu zeigen, kommentiert Richard Hurding (BIORAMA-Projekt). "Die Größe und der Umfang ihrer Installationen, sowie die strukturellen Aspekte der Kunstwerke, sind den rohen Räume der renovierten Villa ein perfektes Gegenüber."

Wie der Titel der Ausstellung vermuten lässt, geht es um eine Auseinandersetzung mit Vergangenem und Zukünftigem, und um die Frage nach parallelen Realtäten – in der Physik ein kontrovers diskutiertes Thema – in den Werken GODsDOGs eher mit einem Augenmerk auf psychologische und soziologische Strukturen, indem verschiedene Ebenen der (eigenen) Geschichte betrachtet werden.