Exhibition Views and Installations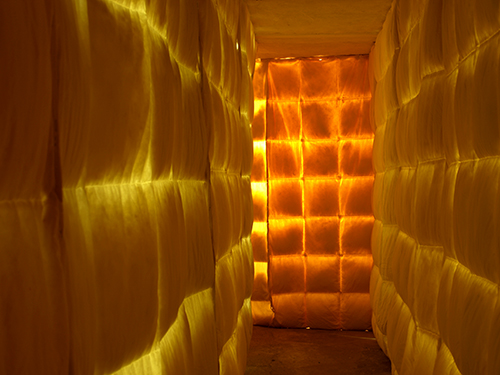 INSTALLATION - Geisterfahrer
WORKS - Geisterfahrer
"Der Geisterfahrer" means literally translated "ghost driver", the meaning of the german word is a driver who is going with his car on a highway in the wrong direction evoking great danger to all the others he or she might collide with. The outlines of the main painting (oil and laquer on canvas, 75 x 100 cm) were originally scetched from a "Blitzer Photo" (an automatic photo the police takes from speeders or other transpassers) and was then enriched with imigary taken from old gothic christian tradition as well as art history and film quotes.
The Painting as long with the "LackLilie" (Laquer on canvas, ca. 40 x 30 cm) were installed in a walk in chamber, softly glowing from the outside and covered with fake black fur from the inside. Exhibited at an groupexhibition in the creepy celler of the Old Brewery, LA54 Berlin, curatiert by Fridey Mickel, Oct 2010.
At a different exhibition the spectators had to wander through an illuminated labyrinth in order to get to a former butchers small cold celler, where the tiled room was again transformed into a black furry place. The sound deprivation deriving by the cloths in the labyrinth and fur in the cold room gave a interesting sensual precondition to the soundinstallation in the final room with the pictures.